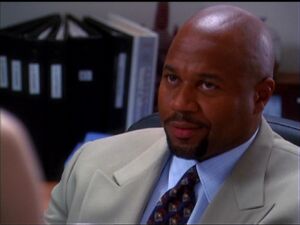 Mr. Cowan is the mortal boss of Paige Matthews at the South Bay Social Services. He has a son named Mason.
Mr. Cowan promoted Paige and handed her her first case, a widower named Bill Roberts. However, when Paige visited him, she discovered his wife Hannah had been mysteriously resurrected. After she and her sister vanquished the demon Agares, Hannah disappeared as well. The widower was then admitted in a psychiatric hospital, due to people not believing him. Paige was convinced she was getting fired, though Mr. Cowan said she could not have foreseen his breakdown.
Mr. Cowan later informed Paige that the soon-to-be ex-husband of one of her clients had disappeared.
Darryl Morris came to the office to get a file for an important case involving an attempted homicide. When Mr. Cowan learned that he and Paige knew each other, he ordered her to help. Paige was succesful in finding the file, but had to run off to pick up the twins. When she came back, Mr. Cowan informed her that her running out all of the time was becoming a problem.
After Paige finished up an adoption, Mr. Cowan congratulated her on the good work she had been doing for the past few months. When Paige had to leave because of a demonic emergency, Mr. Cowan finished up her paperwork instead. When Paige returned, Mr. Cowan scolded her for disappearing again and told her to think about what she truly wanted.
Paige met with Mr. Cowan and told him she wanted time off to figure out who she was and what she wanted. Mr. Cowan replied that despite her potential, he could not give her special treatment. He gave her two weeks and hoped he would not lose her.
Appearances
Edit