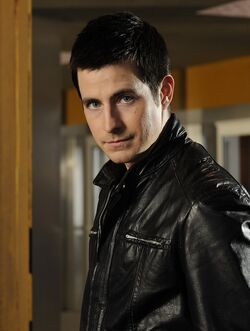 Evan Nicolae is a magical gypsy and a member of the Nicolae tribe. He was dating Paige Matthews until she decided to end the relationship.
When Evan and his sister Ava were little, their mother became ill. Instead of using modern medicine, she trusted in the magic of their tribe and died. After her death, Evan and his sister were raised by their aunt Lydia, though they both wanted nothing to do with magic.
Years later, Lydia was brutally murdered by the Wolfmen, a group of men cursed to become monsters by their ancestors centuries ago. Evan and Ava later summoned her spirit and learned about what happened. They then set out to retrieve the Waffediyok and get revenge, though the Charmed Ones managed to convince Ava to break the cycle of vengeance. The curse was then broken and the now mortal wolfmen were arrested.
Soon after, Evan started dating Paige Matthews. The relationship developed at a steady pace until Glen Belland returned to get Paige back. Feeling conflicted between the two, Paige was unsure of who to choose, though she eventually chose Evan.
While having a date night at P3, Paige jokingly called a guy that was flirting with Phoebe hot, to which Evan remarked that it was too soon. He was later surprised when Paige brought up her experimental phases concerning sex.
When Paige witnessed the tribe holding a young girl captive, she doubted their intentions. Evan then became upset with her for doubting the tribe and by extension, him. When the truth was revealed about the warlock Rodrick, Paige and Evan worked out their differences.
To show his commitment to her, Evan gave Paige a necklace that once belonged to his mother. However, this caused Paige to freak out because she was not ready for a serious relationship. After talking to her sisters, Paige decided to break up with Evan because he wanted more than she was ready to give.
When tensions began to grow between the tribe and the rest of the community, Evan supported his sister and suspected his second cousin Nadine was up to something. He later ran into Paige for the first time after the break-up and they got to talk. After Nadine's plans were exposed and order restored, Evan asked Paige out, though she told him it was a bad idea because she was still trying to figure out what she wanted.
Powers and Abilities
Edit
Divination: The ability to gather information about the past, present or future through various means. Evan has a talent for reading palms.
Appearances
Edit
Season 5
Season 6