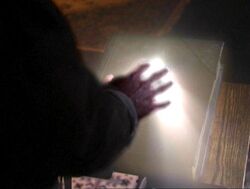 Sinners and Saints is the fourth episode of the sixth season of Charmed.
When a good witch is abducted, the Charmed Ones seek to save her from a dark priest and his sinister plans. A reluctant Piper works closely with Charlie, leading to some revelations on both sides. Meanwhile, Phoebe hits a wall while trying to get closer to Derek and Paige makes a decision about her future.
Main Cast
Guest Starring
Magical Notes
Edit
To Intertwine Moralities
Edit
Naberius used this spell twice in order to alter his morality and touch the Book of Shadows. The second time, he used a knife as a conduit.
From light to dark and dark to light,
Opposing forces in eternal fight,
Come together and cross the line,
Let these opposites bind and intertwine.
Shimmering: Used by Naberius as means of teleportation.
Telekinesis: Used by Naberius to throw Frank, Christine and Phoebe and to choke Frank.
Remote Shimmering: Used by Naberius to remotely shimmer Christine and Frank.
Orbing: Used by Charlie as means of teleportation.
Molecular Combustion: Used by Piper to combust a coffee cup, attack Naberius and his minion and to destroy the knife.
Sensing: Used by Charlie in an attempt to sense Christine.
Premonition: Used by Phoebe to get a premonition off the Book of Shadows.
Molecular Immobilization: (failed) Used by Piper to attempt to freeze Naberius.
Telekinetic Orbing: Used by Paige to orb the knife.
Remote Orbing: Used by Paige to summon Frank.
Notes and Trivia
Edit
The title is a reference to the polar opposites on morality, Sinners (evil) and Saints (good).
Prior to this episode, Dark Priests have only appeared in supporting roles. Naberius is the first priest to be a true antagonist.
It is revealed that Phoebe is still insecure about dating due to her bad experiences with Cole. She begins to suspect Derek is hiding something from her.
Paige decides to take a break from work to find out what she truly wants.
Charlie accidentally reveals Leo personally picked him to replace him, while Piper realizes she has not really accepted that he is gone.
It is hinted in this episode that the Book of Shadows is at least somewhat sentient, as Paige remarked not to piss off the book after it vanquished Naberius.