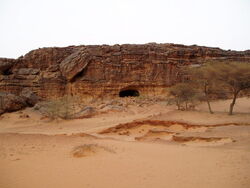 Chaos Theory is the nineteenth episode of the fifth season of Charmed.
Now that Adam has finally found what he needs to open the gate to Purgatory, the Charmed Ones prepare to face the old one in a final confrontation. Familiar faces return to help the sisters understand what they are dealing with, while Leo faces his own decisive battle in the Heavens.
Main Cast
Guest Starring
Uncredited
Magical Notes
Edit
The sisters used a spell to transform Kit into a human (offscreen), this spell was first used in Familiar Grounds.
Force Field Generation: Used by the Guardian to keep Adam away from the Source.
Fire Breathing: Used by Adam to attack the force field and to destroy potions thrown at him.
Super Strength: Used by Adam to shatter the force field and to throw Phoebe.
Sensing: Used by Kit to sense nature warning her about Adam.
Premonition: Used by Phoebe to get a premonition of Kit twice.
Orbing: Used by Leo and Paige as means of transportation.
Summoning: (through the Source) Used by Adam to summon Darklighters.
Healing: (failed) Used by Leo to attempt to heal Werner.
Portal Creation: (through the Source) Used by Adam to open the gates.
Wisping: Used by Penny to teleport to the manor.
Shapeshifting: Used by Adam to imitate Lumen.
Molecular Acceleration: Used by Piper to set Adam ablaze.
Telekinesis: Used by Paige to throw Adam.
Psychic Overload: (failed) Used by Phoebe to attack Adam.
Notes and Trivia
Edit
The title is a reference to a field of study in mathematics. It is a nod to Adam's plan to bring chaos to the world (Chaos) and the sisters learning about the Source of All Magic from Kit (Theory).
This episode directly follows the previous one, with Adam arriving at the Source.
Kit last appeared in Familiar Grounds.
Leo proves once again he is not quite a pacifist. He first displayed his combat skills in "A Knight to Remember".
This episode reveals much about the origin of magic and the planes of existence. Several planes seen or mentioned in earlier episodes are mentioned by Kit.
It is revealed that the Elders do not govern the Source of All Magic, as it is nature's domain.
Cole is mentioned by Phoebe as one of the people they're fighting for.